This page lets you proceed to register for AS/A Level Physics lessons online.
About Mr Kaleem Akbar
PGDE BSc. MSc.
Mr Akbar is a highly qualified and experienced Physics teacher and an International writer.
He has a BSc. Honours from Heriott Watt University, an MSc. from the University of St Andrews and a PGDE from Strathclyde University. All qualifications were achieved between 2002-2005 from these prestigious educational institutes of Scotland.
He has been teaching A level Physics since 2006 with over ten years of teaching experience, and he has written two endorsed GCSE titles, one for the Cambridge Examination Board and one for Edexcel. The fact that these titles are endorsed means they have been through a rigorous checking process by their respective examination boards and are consequently officially approved.
His titles that are available worldwide are:
He strives for ways to improve how to teach what is generally considered a difficult subject in the easiest way possible. He has now created videos to support his lessons along with his books. This means students can replay topics, that they are taught, in the comfort of their own home after having participated in an online lesson. His success rate is averaged at 98% A* - C at International GCSE and A level.
---
What former students think of Mr Akbar's teaching
Please click the images below to hear what each student has to say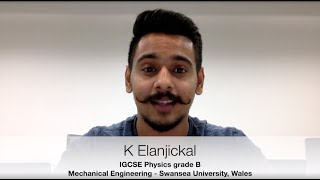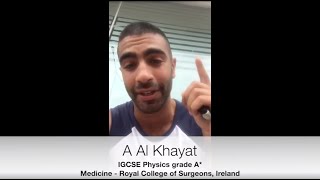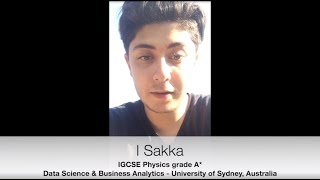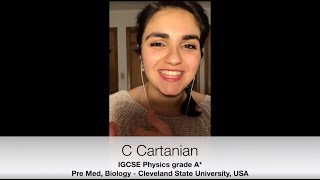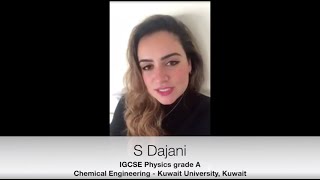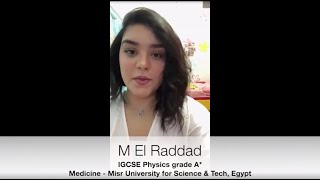 Information for parents and students
---
Signing up
Currently, students are requested to fill in their details in the following pages to secure their place. The booking system allows the tuition time slot to be chosen once academic results are entered and a deposit paid. Please note that students are, where possible, placed in classes based on similar academic ability - this is to help them achieve the best grade possible.
This online sign-up system is designed to be a simple way for students to reserve a place for the upcoming academic year (beginning of September until the end of April). It also acts as a vehicle to allow proper communication between the teacher and parents. During the registration process, students are required to provide contact details for their parent/guardian(s) including telephone number and email address.
Parents will be able to login and access the parental portal once the academic year begins to track their child's progress.
Lesson time slots are based on GMT (Greenwich Mean Time) time zone; it's essential that you understand which time this equates to in your time zone.
---
Live Online Tuition Information
AS/A level Physics lessons
Physics tuition lessons take place twice a week for AS/A level, for 30 weeks from September to April.
The full A level course is over 2 years. Students can sign up for AS only (1st year of course) or A2 only (2nd year of course). Students wishing to sign up for the full 2 year course should contact tuition@physicslessonsonline.com for further information.
The length of an online lesson is 1 hour 30 min.
Interact with the teacher just like you would in the classroom, put your hand up, ask questions and even write on the screen.
There is a 30 min FREE initial introduction lesson where students are shown how the online platform works. All the student needs is one from the following: a mobile phone, tablet, laptop or desktop, as well as standard earphones. A moderate internet connection is more than enough to enjoy lessons without lagging or interruption.
Get online in minutes with a simple link, no complicated software setup required.
FULL 100% Money Back Guarantee up to 14 days after the course has commenced. This will allow students to experience the introduction and Mr Kaleem Akbar's popular teaching methods up to a maximum of three lessons within that time.
Students are pointed to the relevant textbook(s) for purchase to support their learning throughout the course.
Bonus materials
All students are given access to several bonus videos, online quizzes, additional notes and hundreds of examination style questions with worked solutions.
Progress reports
All students and parents are given access to frequently updated academic progress reports throughout the course.
---
Cost of 60 lessons (30 week) course
AS/A level - 1hr 30min per lesson
Exclusive 1-1 lessons with Mr. Akbar cost $790 per hour, Mr. Akbar is able to offer cost effective tutorial classes by teaching in groups.
Two lessons per week, totalling 60 lessons. Any additional revision lessons requested will be charged extra.
Lesson time slots are based on GMT (Greenwich Mean Time) time zone; it's essential that you understand which time this equates to in your time zone.
Please note: The full A level course takes 2 years (one year for AS and one for A2).
In general, the course runs from the beginning of September to end of April. Other master classes and crash courses are available throughout the year.
Special offers which are available at various times of the year will be shown in red below.
There are three payment options:
$2702.40 paid in two $1351.20 instalments ($45.04 per lesson)
$3040.00 paid in four $760.00 instalments ($50.67 per lesson)
$3378.00 paid in eight $422.25 instalments ($56.30 per lesson)
100% FULL Money Back Guarantee within 14 days of the initial FREE 30 min introduction to online education. This equates to a maximum of three consecutive lessons after the introduction.
Students will be pointed in the direction of the appropriate book for purchase to support their learning throughout the course.